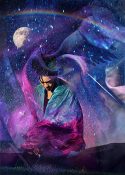 Surrendered Heart reminds us to yield at the feet of God, to resist the urge to carry the weight of the world on our shoulders but instead to lay it at His feet, and to give Him the honor and glory of which He is so worthy.
Psalm 95:6-7 (VOICE) Come, let us worship Him. Everyone bow down; kneel before the Eternal who made us. For He is our God and we are His people, the flock of His pasture, His sheep protected and nurtured by His hand. Today, if He speaks, hear His voice.
2 Chronicles 7:3 (AMP) When all the people of Israel saw how the fire came down and saw the glory and brilliance of the Lord upon the house, they bowed down on the stone pavement with their faces to the ground, and they worshiped and praised the Lord, saying , "For He is good, for His mercy and lovingkindness endure forever."
Psalm 91:1-2, 4 (TPT) When you sit enthroned under the shadow of Shaddai, you are hidden in the strength of God Most High. He's the hope that holds me and the Stronghold to shelter me, the only God for me, and my great confidence… His massive arms are wrapped around you, protecting you. You can run under his covering of majesty and hide. His arms of faithfulness are a shield keeping you from harm.
Psalm 34:15 (VOICE) For the Eternal watches over the righteous, and His ears are attuned to their prayers. He is always listening.