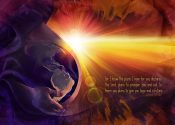 Hope and a Future reminds us of the Father's faithfulness and His determination to bring to completion and fruition the promises He has planted in our lives both in the spiritual and natural realms.
Jeremiah 29:11 (NIV) For I know the plans I have for you," declares the Lord, "plans to prosper you and not to harm you, plans to give you hope and a future.

Isaiah 66:9 (NKJV) Shall I bring to the time of birth, and not cause delivery?" says the LORD. "Shall I who cause delivery shut up the womb?" says your God.
Philippians 1:6 (AMP) I am convinced and confident of this very thing, that He who has begun a good work in you will [continue to] perfect and complete it until the day of Christ Jesus [the time of His return].