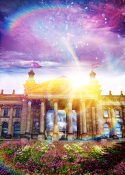 Yielded Vessel reminds us the most intimate relationships with God are ones built on an intentional structure. They come from a foundation of humility, with a heart to love Him and be faithful to Him, to abide in Him and live for Him, all the while keeping one's eyes fixed on exalting Him – holiness unto the Lord.
John 12:49 (NLT) I don't speak on my own authority. The Father who sent me has commanded me what to say and how to say it.
Jeremiah 1:9-10 (NKJV) Then the LORD put forth His hand and touched my mouth, and the LORD said to me: "Behold, I have put My words in your mouth. See, I have this day set you over the nations and over the kingdoms, To root out and to pull down, To destroy and to throw down, To build and to plant."
Luke 17:20-21 (NKJV) Now when He was asked by the Pharisees when the kingdom of God would come, He answered them and said, "The kingdom of God does not come with observation; nor will they say, 'See here!' or 'See there!' For indeed, the kingdom of God is within you."
Luke 12:31-32 (TPT) Each and every day he will supply your needs as you seek his kingdom passionately, above all else. So don't ever be afraid, dearest friends! Your loving Father joyously gives you his kingdom realm with all its promises!