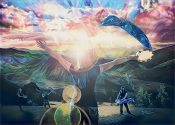 Open the Gates with Praise reminds us not only to bring forth praise to the One who is worthy, but also that in doing so we lead others to do the same.
Exodus 15:20 (AMP) Then Miriam the prophetess, the sister of Aaron [and Moses], took a timbrel in her hand, and all the women followed her with timbrels and dancing.
1 Samuel 10:5-6 (AMP) After that you will come to the hill of God where the garrison of the Philistines is; and when you come there to the city, you will meet a group of prophets coming down from the high place [of worship] with harp, tambourine, flute, and lyre before them, and they will be prophesying. Then the Spirit of the Lord will come upon you mightily, and you will prophesy with them, and you will be changed into another man.
Psalm 149:3-4 (AMP) Let them praise His name with dancing; Let them sing praises to Him with the tambourine and lyre. For the Lord takes pleasure in His people; He will beautify the humble with salvation.