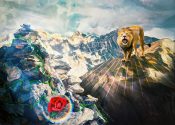 Tenacious Bloom depicts our tenacious bloom sprouting forth in vibrant life despite the harsh environment as the Lion of Judah and Heavenly Hosts stand guard and make their support and encouragement known.
Song of Solomon 2:1 (AMPC) [She said] I am only a little rose orautumn crocus of the plain of Sharon, or a [humble] lily of the valleys [that grows in deep and difficult places].
Isaiah 35:1-2 (NIV) The desert and the parched land will be glad; the wilderness will rejoice and blossom. Like the crocus, it will burst into bloom; it will rejoice greatly and shout for joy. The glory of Lebanon will be given to it, the splendor of Carmel and Sharon; they will see the glory of the Lord, the splendor of our God.