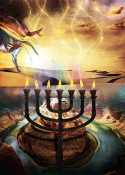 Seven Spirits of God: Flow in the Spirit reminds us to flow with the seven Spirits of God, in each of their unique manifestations, and to allow their wind to stir us, water to refresh us, and fire to ignite us.
Ephesians 4:3-4 (TPT) Be faithful to guard the sweet harmony of the Holy Spirit among you in the bonds of peace, being one body and one spirit, as you were all called into the same glorious hope of divine destiny.
Isaiah 44:3 (AMP) 'For I will pour out water on him who is thirsty, And streams on the dry ground; I will pour out My Spirit on your offspring And My blessing on your descendants;
Psalm 107:35-36,38 (TPT) But he also can turn a barren wilderness into an oasis with water! He can make springs flow into desert lands and turn them into fertile valleys so that cities spring up, and he gives it all to those who are hungry. God will bless them and cause them to multiply and prosper.
Acts 2:1-2, 4 (NKJV) When the Day of Pentecost had fully come, they were all with one accord in one place. And suddenly there came a sound from heaven, as of a rushing mighty wind, and it filled the whole house where they were sitting…. And they were all filled with the Holy Spirit and began to speak with other tongues, as the Spirit gave them utterance.