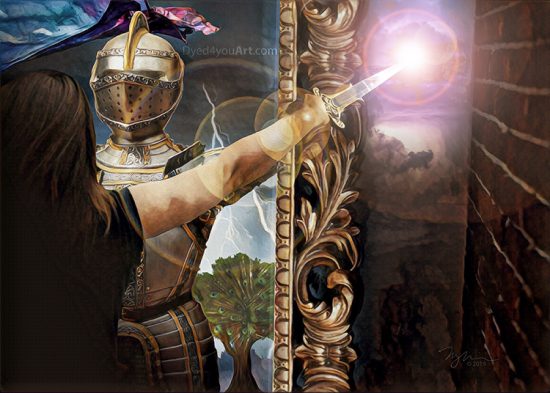 Anointed for War: Armed and Ready reminds us that whether we see it or not, and whether we feel it or not, God has equipped us for whatever fight is before us.
2 Corinthians 10:4 (VOICE)The weapons of the war we're fighting are not of this world but are powered by God and effective at tearing down the strongholds erected against His truth.
Ephesians 6:11-18 (VOICE) [including commentary from the Voice Translation in quotes] Put on the full armor of God to protect yourselves from the devil and his evil schemes. We're not waging war against enemies of flesh and blood alone. No, this fight is against tyrants, against authorities, against supernatural powers and demon princes that slither in the darkness of this world, and against wicked spiritual armies that lurk about in heavenly places. And this is why you need to be head-to-toe in the full armor of God: so you can resist during these evil days and be fully prepared to hold your ground. Yes, stand—truth banded around your waist, righteousness as your chest plate, and feet protected in preparation to proclaim the good news of peace. Don't forget to raise the shield of faith above all else, so you will be able to extinguish flaming spears hurled at you from the wicked one. Take also the helmet of salvation and the sword of the Spirit, which is the word of God. "Paul knows that the real battles and dangers we face are not against flesh and blood. The enemies we see are real enough, but they are animated by spiritual forces of darkness that stay strategically hidden from view. These powers often reveal themselves in institutional evils—genocide, terror, tyranny, and oppression—but the weapons needed to combat them are not earthly weapons at all. What is needed, Paul advises, is to stand firm in God's power and to suit up in the full armor of God. Although the devil and his demon armies are destined for destruction, they are serious threats now and must be resisted and beaten back. For Paul, the best offensive weapons we have are the word of God and prayer." Pray always. Pray in the Spirit. Pray about everything in every way you know how! And keeping all this in mind, pray on behalf of God's people. Keep on praying feverishly, and be on the lookout until evil has been stayed.