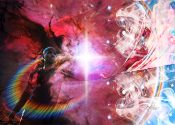 Eyes Fixed depicts a worshipping warrior – his eyes fixed on the glory of God, surrounded and protected by the Cross, and refusing to give the enemy his focus. Whom shall he fear when God is on his side? This is how he fights his battles.
Ephesians 6:10 (VOICE) Finally, brothers and sisters, draw your strength and might from God.
Ephesians 6:10 (TPT) Now my beloved ones, I have saved these most important truths for last: Be supernaturally infused with strength through your life-union with the Lord Jesus. Stand victorious with the force of his explosive power flowing in and through you.