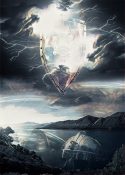 Gibbor (Mighty One) is a reminder that you have been equipped with power from on high, saturated by His Spirit, and imbued with the Spirit of Might. Allow Father to refine the resiliency of your faith just as one tempers steel. Be bold. Have impact. You are a mighty one.
Isaiah 54:16-17 (VOICE) I have created the blacksmith who readies the fire and forges weapons for wars; And I have created the destroyer to ravage and ruin. But no instrument forged against you will be allowed to hurt you, and no voice raised to condemn you will successfully prosecute you. It's that simple; this is how it will be for the servants of the Eternal; I will vindicate them.
2 Corinthians 10:3-5 (NKJV) For though we walk in the flesh, we do not war according to the flesh. For the weapons of our warfare are not carnal but mighty in God for pulling down strongholds, casting down arguments and every high thing that exalts itself against the knowledge of God, bringing every thought into captivity to the obedience of Christ….