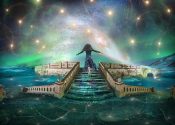 Emerald Light represents the ascension in the heavenly realms as Father bestows spiritual gifts; imparts healing, hope, and joy; and razes fear bringing peace and harmony.
"The one who builds stairs up to heaven and sets their foundation on the earth, the one who calls for the water in the sea and pours it over the face of the earth— His name is Yahweh." Amos 9:6 (NOG)

"You were in Eden, the garden of God; your clothing was bejeweled with every precious stone—ruby, topaz, diamond, chrysolite, onyx, jasper, sapphire, carbuncle, and emerald—all in beautiful settings of finest gold. They were given to you on the day you were created." Ezekiel 28:13 (TLB)

"All streams flow into the sea, but the sea is never full. The water goes back to the place where the streams began in order to start flowing again." Ecclesiastes 1:7 (NOG)

Father highlighted the emerald throughout this piece, and that in places it almost has the appearance of the gemstone. Emerald stones (and the color meaning) have been used to represent the glories of God and His saints, essence of life, flourishing, growth, new life, integrity, love, increase, and prosperity. Emerald stones are valuable. Historically, people believed that emeralds heal, help vanquish fear, bring joy, create harmony, and even bestow the gift of prophecy. Father is connecting all of these meanings to this piece. He is saturating with healing waters. He is highlighting the flow – from Him through you out to others and back to Him through worship. He's bringing forth life and prosperity, harmony and love, joy and His giftings.
A portion of a word from Pastor Ronda Ramer of Glory Fire Church is connected to this piece, "…You grant us a divine invitation for romance and intimacy with You…To step onto the dance floor of that crystal sea. That You would come and take us by the hand. Telling us don't be afraid, just follow My lead…We take Him by the hand and He dances us across that dance floor of the crystal sea and the throne room filled with emerald light and all the angels are crying holy …embraced by the King of glory, dancing upon a sea of crystal…He embraces us with love, with love and we are changed in the presence of this glorious King…"
The name of the silk in this image is Ascend. The colors in it are electric blue representing prophetic revelation, chartreuse representing flourishing, and plum representing intimacy.
Father, thank You for richly bestowing blessings on those who seek You. May we dance with abandon across the crystal sea basking in Your life-giving glow to the sound of the angels calling "Holy!" May Your love overtake us as we meet with You.