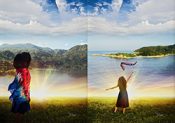 Heart for Ayiti represents instigators of the Spirit – their passion paving the way for a move of His Spirit through their intercession, prophetic declarations, and personal intimacy with the Lord. Like the angel that "troubled" or "stirred up" the water of the Pool of Bethesda; there was open access for a healing miracle when the angel did this – the same is true for God's intercessors. He is moving.
Romans 10:14-17 (VOICE) …How can they believe in Him when they have not heard? How can they hear if there is no one proclaiming Him? …As Isaiah said, "Ah, how beautiful the feet of those who declare the good news of victory, of peace and liberation." …So faith proceeds from hearing, as we listen to the message about God's Anointed.

A word from Elisa Eaton of Waiting in the Wings is connected to this. It is called "Who Has Seen, Who has Heard?"
Over and over I hear, "Who has seen? Who has heard?" The questions are like a double-edged sword. On one side, it is a cry of awe over what God has done by birthing a nation in a day. In these words lay a future testimony of His power to bring forth life in a miraculous display of His might. From the mouths of many, breathless wonder will arise as the arm of the Lord is revealed.

On the other edge of the sword, God is inquiring, "Who has seen? Who has heard? Will you see? Will you hear?" It is a cry on the wind, an invitation to partner with Him in this new birth. He searches the earth for those who would grab hold of His vision and run with His message. For beautiful are the feet of those who bring good news—before it is even news! God is searching for those who would dare to take hold of the purposes and promises He has released from His Throne. He is searching for those who would catch these seeds sown on the wind and carry them to birth in their wombs of faith.

He says, "Look with My eyes at the land before you. It is as a tender shoot before Me, budding forth with resurrection life. Beloved, call those things into being that are not as though they were. Align and partner in intercession with those who refuse to see or hear anything beyond what I show them or tell them. For what I tell you in the dark, speak in the light. And what you hear in the ear, proclaim on the rooftops. Will you partner with Me, beloved, to bring forth My crowning joy? Will you lift My vision and proclamation on the wind as a banner of victory? For when such things enter My mind and come forth from My lips, they are good as done. Only believe."

Isaiah 66:8 (NKJV) Who has heard such a thing? Who has seen such things? Shall the earth be made to give birth in one day? Or shall a nation be born at once? For as soon as Zion was in labor, She gave birth to her children.

Job 14:7-9 (NKJV) For there is hope for a tree, If it is cut down, that it will sprout again, and that its tender shoots will not cease. Though its root may grow old in the earth, and its stump may die in the ground, yet at the scent of water it will bud and bring forth branches like a plant.

Isaiah 43:19 (NKJV) Behold, I will do a new thing, Now it shall spring forth; Shall you not know it? I will even make a road in the wilderness And rivers in the desert.

Isaiah 11:10 (NKJV)"And in that day there shall be a Root of Jesse, Who shall stand as a banner to the people; For the Gentiles shall seek Him, And His resting place shall be glorious."
A Prophetic Nugget called "Peace and Joy Will Reign" from our Dyed4you Ministries blog is connected to this.
Malachi 3:12 (AMP) "All nations shall call you happy and blessed, for you shall be a land of delight," says the Lord of hosts.

Beloved, choose Me – dedicate yourself and your resources to Me – and see how I will move. Your land will flourish, your people will prosper, and peace and joy will reign.

Those who love Me, declare it as so. Command the atmosphere. Come into agreement with My vision for your land. Declare over your nation that it shall be a people that serve the Lord. Minister to their hearts', that they might see and know Me.
The name of the silk in this image is Ayiti (Mountainous Land). The colors in it are blue representing the Word of God and truth, red representing warfare and power in the Blood, green representing flourishing and new life, and white representing victory.
Father, thank You that You are moving. Thank You that You are faithful and You respond to the heart cries of those who love You and seek Your face. Father, we come into zealous agreement over the nation of Haiti for blessing and an outpouring of Your Spirit. May your hand be clear and Your heart for them be echoed in our own.