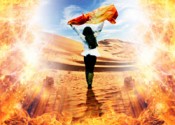 Consuming Fire depicts the worshiper not afraid to embrace the desert season and the Refiner's fire – focused only on bringing glory to the Father.
"Behold, I have refined you, but not as silver; I have tried you in the furnace of affliction. For my own sake, for my own sake, I do it, for how should my name be profaned? My glory I will not give to another." Isaiah 48:10-11
In Matthew 4:1, the word tells us the Spirit drew Jesus into the wilderness (the Hebrew word here also refers to desert). In the wilderness He was tested and tried – refined – and He was victorious and brought glory to the Father.
As we too trust where the Spirit leads us and seek to worship the Father with our lives allowing Him to refine us as He sees fit and praising Him through it all – then we too bring Him glory which He is richly due.
The silk in this image is All Consuming Fire. The colors in it are golden yellow representing joyful praise, orange representing fire, and red wine representing passion.
I pray that you would follow the Spirit as He leads, lay down your own comfort and allow Him to refine you as you press in through worshiping Him with your whole heart.