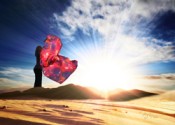 Possess It depicts a worshiper who is willing to trust the Father and praise Him even in the midst of the desert.
"But my servant… because he has a different spirit and has followed me fully, I will bring into the land into which he went, and his descendants shall possess it." Numbers 14:24
When we are willing to trust Him even when He walks us into a desert, and we lavish our praise on Him simply because He is worthy and we love Him, then He brings us into the fullness of the promises He has for us.
The silk in this piece is called You are my Hallelujah. The colors in it are golden yellow representing joyful praise, orange representing praise, fuchsia representing passion, amethyst representing merry heart, deep orange representing joy, cranberry representing worth the ultimate price (John 15:13), and plum representing abundance.
I pray that you would be willing to pay the price, and lay it all down for Him – completely trusting Him, no matter what – so that you might enter into the promised land He has for you.