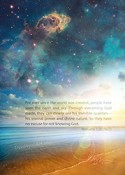 Without Excuse shows us how the beauty of God's creation reflects His majesty and reminds us that His existence is affirmed in His handiwork.
"For ever since the world was created, people have seen the earth and sky. Through everything God made, they can clearly see his invisible qualities — his eternal power and divine nature. So they have no excuse for not knowing God." Romans 1:20 (NLT)
The silk in this image is YHVH Bore (the Lord, the Creator). The colors in it are black representing humility and hovering of the Holy Spirit (as during creation in Genesis 1), purple representing kingdom authority, and midnight sea representing tehowm (the deep – Psalm 42:7).
We have but to open our eyes and behold all of nature's splendors to know that God is. Our masterful Creator who in His love has given us tangible reminders of His existence all around us so we can rest in the certainty of His omnipotence.
Father, may we keep our eyes and hearts fixed on the plentiful reminders that You are – You exist. On days when doubts seem to overwhelm us, may we be intentional about pausing to gaze upon the magnificence of Your creation and allow Your fingerprints of creation to steady our hearts in the affirmation that You are sovereign and Your attention to detail – even the details of our lives – is impeccable. Nothing is beyond Your view or notice. We are without excuse to doubt You or Your existence. For how can one look at something created and doubt there is a creator? May we acknowledge You and happily surrender to Your loving care.



(Available with and without the scripture on the image, but with the text is the default)