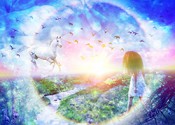 Love Waits represents the beauty of the decision to stay pure and wait.
"How can a young person stay pure? By obeying your word. I have tried hard to find you–don't let me wander from your commands. I have hidden your word in my heart, that I might not sin against you." Psalms 119:9-11 (NLT)
The silk in this image is Whole Heart. The colors in it are white representing purity, gray representing doves eyes, fuchsia representing passion, sky blue representing open heaven, lavender representing intimacy, and purple representing abiding.
Hedged in by His word and His love, He protects you as you choose to wait trusting His plans and His promises which are yes and amen. Allow His beauty to shine forth as you wait on Him, eyes fixed not on the destination, but rather on Him as you journey the path He has for you, which is beautiful and brings glory to Him.
Father, bring strength to choose what pleases You. Strength to stand counter to the culture – trusting in You and Your plans. Be glorified! May Your love fulfill every need and may the earthly love You bring simply be an extension of Your love. Prepare the hearts, heal the souls, bring forth the callings – be magnified!