Prophetic "Portrait"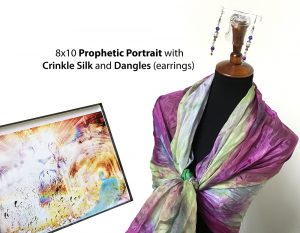 This exciting offering from Dyed4you Art is a way to request a custom, personalized art piece created just for you. The idea behind these is not to share your vision for what you want (that's our commissioned art), it is rather for us to birth what we sense Father wanting to share with you.
With this special item, we will create a new digital image as the Lord leads along with a word – whatever we sense Him wanting to impart to you. You will receive an 8×10″ photographic image of your "portrait" as well as a letter with the accompanying word.
You also can order your Prophetic "Portrait" with a Crinkle Silk. If you're familiar with our artwork, you know most of our pieces have a picture of one of our Dyed4you silks in them. If you order the portrait/silk combo, the silk you receive will be the one in the image. (And you can switch out the 8×10 for a bigger size or gift set if you'd like!) You can even add a pair of "dangles" (aka earrings) that coordinate with your silk too. 🙂
This image may or may not end up being released into our main gallery in the future (with either the whole word or an abbreviated version). We retain all rights to the image, but you may order more copies at any time!
One of the recipients of a Prophetic "Portrait" had this to say:
It is even more lovely than I ever imagined. The art is magnificent in person and the Word and scriptures that comes with it is spot on. (read more)
Another whose silk and Prophetic "Portrait" brought both confirmation and encouragement said:
…the silk and portrait spoke to what God and I have been dialoguing…I love that the name of the silk is Life Giver and that it's Sun of Righteousness. He's not disappointed in me!
Read more testimonies on our Prophetic "Portraits" and see them in action on our blog.
On this page you'll see examples of different Prophetic "Portraits." Some are our standard one with the crinkle silk added; but also there are ones where image and silk size have been customized based on preference. You can even see how some have been displayed.
Also, just to make sure people are clear on this difference, this video gives an explanation of the difference between our Prophetic "Portraits" and Commissioned Art.