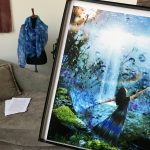 Since this was our first official Prophetic "Portrait", it was exciting to get such beautiful feedback. She opted to upsize from the standard 8×10 to an 11×14 gift set with a large silk, and when she found out I was making flags to use in her art, she got those as well (video of them below). 🙂
My portrait and silks came today ….oh my….

My pieces came today and for now I have no words…..except that everything is beautiful. I love it all, the portrait, the silk, the flags and the Word from Him that pierced my heart and my spirit. Oh my, I don't even have words, just tears of love and joy and thankfulness. I will write more later when I can think. For now, I can only bask in Him and His love.

Thank you for listening to Him.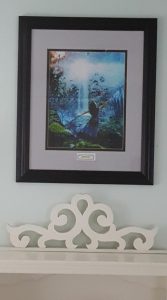 Then later (when she saw this posted with her comments above), she shared this as well as the picture to the right of how she has her Prophetic "Portrait" displayed 🙂
I am delighted to be the first recipient of a Prophetic Portrait. It is even more lovely than I ever imagined. The art is magnificent in person and the Word and scriptures that comes with it is spot on.

I originally had asked to have another piece altered, but He had other ideas for both of us. He always knows what we need and ALWAYS has better ideas than we do. This piece is something I will treasure because it came from the Father especially for me and brought to life by Meghan.

She is altogether lovely and is hanging over my bed.

I also wanted the flags that were in the Portrait. The design of the silk and the flags are identical. They are lovely, well made and I will love worshiping with them. The scriptures and Word that came with the portrait and the silks spoke to me and I am still basking in His love, mercy and grace. I am blessed beyond measure.

Thank you Meghan for listening to Him. I love it!!!!!!