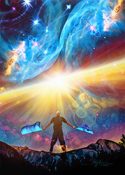 Command the Atmosphere depicts the warrior – unafraid – shifting the atmosphere, beckoning forth the Light of Christ and holding fast his banners before YHVH Nissi, the Lord our Banner – our miracle.
"[For I always pray to] the God of our Lord Jesus Christ, the Father of glory, that He may grant you a spirit of wisdom and revelation [of insight into mysteries and secrets] in the [deep and intimate] knowledge of Him, By having the eyes of your heart flooded with light, so that you can know and understand the hope to which He has called you, and how rich is His glorious inheritance in the saints (His set-apart ones), And [so that you can know and understand] what is the immeasurable and unlimited and surpassing greatness of His power in and for us who believe, as demonstrated in the working of His mighty strength" Ephesians 1:17-19 (AMPC)

"O my God, I trust, lean on, rely on, and am confident in You. Let me not be put to shame or [my hope in You] be disappointed; let not my enemies triumph over me. Yes, let none who trust and wait hopefully and look for You be put to shame or be disappointed; let them be ashamed who forsake the right or deal treacherously without cause. Show me Your ways, O Lord; teach me Your paths. Guide me in Your truth and faithfulness and teach me, for You are the God of my salvation; for You [You only and altogether] do I wait [expectantly] all the day long." Psalm 25:2-5 (AMPC)
Unite with heavenly hosts! YHVH Sabbath (the Lord of Hosts) is with you – you are aligned with him.  Unite with heavenly hosts. Shift the atmosphere! Release His presence and promises into the atmosphere. Call for a shift and a release. Life and revelation come forth! The price has been costly, but it is all worth it as you see Father's loving gaze rest upon you. Yes, salvation is free, but intimacy with YHVH and His Son costs. It requires obedience, time, and dying to self. So yes, you have paid a dear price, but gained oh so much more. You have stepped into your destiny and it has unfurled around you. Continue on this path and you will see every line written on your scroll fulfilled.
You live out of the place of sonship, knowing who you are in the Kingdom of Heaven. As a son you can do the things your Father has destined for you, like being creative, because He is Creative. You have ascended into Father's Heaven, you received His strategy and blueprint, and then descend into the Earth so you can build His Kingdom here. Command the atmosphere. Bring heaven to earth.
The lyrics from Israel & New Breed's No limits are connected to this piece. Here are a portion of them, "No limits, No boundaries, I see increase, All around me. | Stretch forth! Break forth! Release me, Enlarge my territory. | Take the limits off. Release me. | It's a time of favor, It's a time of rain. It's a time of increase, It's a time of harvest. It is a time for reaping. | Ask for favor while favor is falling. | Hallelujah, Enlarge my territory!"
The name of your silk is Revelation of the Lord. The colors in it are turquoise representing life-giving flow of the Holy Spirit, black representing deep calls unto deep, and royal blue representing revelation knowledge.
Father, we refuse to let the enemy have free reign. We will shift the atmosphere wherever we go, allowing the light of Christ in us to bring forth Your glory! We stand fast and lift You high. Make manifest Your will here on earth.



Note: Due to the length of this word, the free 5×7 version that comes with prints is an abbreviated version; however, an 8×10 version is available for an additional cost is you want to display the full word along with your Dyed4you Art piece. If you don't plan to display the word, it is shown in its entirety above. 🙂