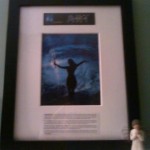 Another story from someone who ordered a personal prophetic 8×10.  It's so fun to hear these stories coming in much like the scarf stories on Dyed4you.
I am so in love with this piece. I think it's a perfect representation of the beauty and strength of the power of God's Word. I think a woman's true beauty is exposed when she walks in the knowledge of who she is in Christ.

I feel such a burden for the young girls in this generation to recognize the lies of the enemy. This is my confirmation to continue standing in the gap and declare to the enemy "NOT on my watch!"

I was tempted to just frame the art but, it just seemed wrong not to include the scripture at the bottom. I also chose to add the title and logo across the top. I'm sorry my camera didn't do it justice.

God bless you and thank you so much
And she later commented online:
I just received this piece yesterday and it will forever be my favorite!! I love it so much I'm going to use this in my next Bible study lesson with my daughters. My oldest has already begged me to order a piece for her…
Order Art or if you're not sure how, find out more.