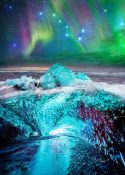 Hidden Treasures encourages us to go deep with the Lord. Set your path on His true north and follow without wavering.
"And I will give you treasures hidden in the darkness, secret riches; and you will know that I am doing this—I, the Lord, the God of Israel, the one who calls you by your name." Isaiah 45:3 (TLB)

"O the depth of the riches, both of the wisdom and knowledge of God! How unsearchable are His judgments and how incomprehensible His ways!" Romans 11:33 (TLV)

"It is the glory of God to conceal a thing, but the glory of kings is to search out a thing." Proverbs 25:2 (AMPC)

"The kingdom of heaven is like a [very precious] treasure hidden in a field, which a man found and hid again; then in his joy he goes and sells all he has and buys that field [securing the treasure for himself]." Matthew 13:44 (AMP)
The big dipper is one of the easiest ways to find the north star in the sky, like a clue or a symbol on a treasure map, it points the way. In the same way, reminds us to seek out our True North – the Lord – who is firm and never changing, steadfast and true. Psalm 111:10 (NLT) reminds us that the "Fear of the Lord is the foundation of true wisdom." The foundation, the base that holds everything else steady. He is worth the effort. He is worth seeking. He is a treasure worth giving all you have to attain Him – relationship with Him. When there's someone important to you, you make time for them; spend time exchanging ideas, sharing thoughts and dreams, the desires of your heart…God is no different. It is worth plumbing the depths of His heart, wisdom, and grace.
"I have good gifts for you that will astound you, says the LORD. Come into the secret place and discover what I have reserved for you to there. Hidden treasures await you that will WOW you and cause your heart to rejoice. I love to lavish My good gifts upon you and watch your face light up as you are surprised by the sudden, unexpected blessings that I will unveil for you. I will restore comforts onto you and give you joy and peace that cannot be extracted from you or comparable to anything that you have ever known before, says the LORD" (From "I Am Your Comfort and Joy" from June Reinke of Prophetic Light).
The name of the silk hidden in this image is Treasures of the Deep. The colors in it are teal representing abundance, imperial purple representing royalty, white representing surrendered, and harvest orange representing fullness.
Thank You, Father, that You are Gelah Raz – the Revealer of Mysteries – and oh, the amazing things You have for us if we would but seek to plumb the depths of Your truths. Teach us by Your Holy Spirit and give us wisdom to know what to do with what You reveal. You are worth knowing, and that which You call treasure makes us rich indeed.