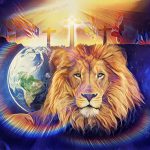 This week's release began as a nonproprietary commissioned art piece (and I'm so grateful because it meant I could release it, which I know will be a blessing to all of you). It is called One Body and it is also available as a Dyed4you Art flag called Unity in Christ. The piece was inspired by another artist's work (see below), which stirred the original idea for the individual who commissioned the piece for a flag (also see below). We're very sensitive not to counterfeit anyone else's work, so it wasn't until after much prayer, dialog on what they were seeking, and God giving us the stirrings of an idea that we took on the commission.
The topic of this piece was inspired also by Eddie James' song "One," which is about unity in the Body of Christ and specifically racial unity. As half of an interracial couple nearing two decades of marriage, is a topic near and dear to my heart. As We were birthing this art piece, an order came in for a custom tallit for a military chaplain – the specific request was again unity. A silk called Love without Bounds was birthed and is the silk included in this Dyed4you Art piece. What a beautiful confirmation! So we couldn't resist gifting the chaplain a copy of the art and the commission customer a copy of the silk. 🙂
One other noteworthy moment was at the end of the creation process. Having only glanced briefly at the inspiration art piece (below) because didn't want it stuck in my head when I started creating, I had to laugh when One Body (Unity in Christ) was complete and we discovered that after about 50 lion pictures, we somehow ended up selecting exactly the same face – LOL! It isn't the first time we've used him though, he's ended up in Listen to the Sound and also in God of Wonders. It's a beautiful shot! In any case, the customer had a beautiful reaction to seeing the piece.
My bones are shaking Praise God!!!!! It's perfect!!! Thank you!!! I'm so happy!!!
We ended up tweaking the final piece a bit before this release (as sometimes happens also with the Prophetic "Portraits" before we release them). We're praying you all are blessed by the art and its word as well as the beautiful flag. 🙂
Read the full word for One Body