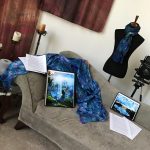 Very excited to be sharing about this product! A quick overview of our Prophetic "Portrait" product (and its variations and customizations). In short, when you order our Prophetic "Portrait", we will create a new digital image (like the ones we have in our gallery) and you will receive an 8×10″ photographic print of it along with a letter containing the word that goes with it.
You can also choose to get a silk with it (by default it's a crinkle silk and will be the same one hidden somewhere in your image). If you'd rather have a larger size print or a different silk, those are customizations we can do as well 🙂
We even have our first testimony from one of the ones in the picture and video!
Also, just to make sure people are clear on this difference, this video gives an explanation of the difference between our Prophetic "Portraits" and Commissioned Art.
In short, if you have a vision you want us to recreate or want to have input into the creation of the image – that is Commissioned Art. If you want to use what we create on your website, etc – that is Commissioned Art. If you want a fresh image created just for you so you can hang it on the wall and enjoy the word that came with it – that's a Prophetic "Portrait".