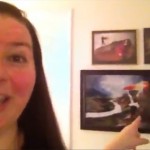 We decided to encourage folks to get subscribed (and to bless those who already are) by doing a subscriber giveaway! So one of you wonderful people will be receiving a 16×20 piece of Dyed4you Art!
Fast facts:
Enter by subscribing to our blog, which you do by registering (if you aren't sure and want more info go here)
Register by 28th August 2012 (11:59 central time to be exact)
Winner receives a prophetic choice 16×20 (this means even *I* don't know which piece the winner will get yet!)
Find out about the giveaway!
Though we can't stop you from unsubscribing after the giveaway, we will be doing periodic giveaways to those subscribed to our blog (in addition to our giveaways to those who leave comments), so if you unsubscribe you will miss out on future giveaways!
Fine Print:
Winner will be notified via email and will have 24 hours to respond to the notification with their shipping address
If the first winner does NOT respond in the 24 hour period they forfeit their winning and a different winner will be selected.
This process will continue as long as necessary until a winner has responded with a shipping address in the allotted time frame.
FYI – The winner is selected randomly by number. Meghan (owner of Dyed4you) is the only one disqualified from winning
If someone OUTSIDE the US wins the giveaway, we will substitute a variety of smaller prints for a similar prize value, or the winner may cover the actual shipping costs of shipping the larger print.
If you aren't sure what exactly Dyed4you Art is – the video below tells you more 🙂