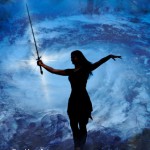 Rarely do I post links to old stories on our Facebook page, but today when at the Father's prompting I posted a link to another testimony about this art piece, He surfaced another story!  It was a blessing to me and I'm sure may be to some of you 🙂
Here are the pieces she shared:
I also have this as an 8×10.  As you can see I use it also as my profile pic most of the time! I am just publishing a book on abuse and hope in Christ and I look at this piece very often and it reminds me of who I am. It is framed in black 🙂

It is a total Blessing I cried when I received it a few months ago. It meant a lot and was confirmation of what the Lord was telling me as to who I am in Him 🙂 sigh……

You can of course share…maybe if you like you can add that a friend had given me a plastic sword before I asked for you to pray over what you sent me (grin) I do hope you are encouraged to know that you are right on and I should have written you before to let you know about the confirmation…

Many Blessings continue to fall upon you!
Please agree with me in prayer as we bless this sister in Messiah as she works on this book – may it be a blessing to many!!!
Find out more about Ordering Art