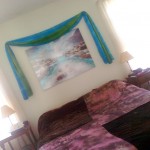 Recently the Lord made it clear it was time for my wrought iron canopy to go. I'd had it for the better part of two decades and frankly it had been around for things in my life that I didn't need reminding of!  So the Lord began telling me it was time to go and then confirmed it in a dream to an intercessor friend.
Once the canopy was gone the next question was… what should replace it.  That was when the Lord birthed this idea (He showed it to me).  So it became a birthday present from my hubby 🙂
A custom-sized 30×40″ mounted print of River of Life surrounded by custom-sized, special order 36×144 Dyed4you silk called River of Life (the one featured in the image). It looks BEAUTIFUL!
And yes, that is a Dyed4you silk comforter too 😉