Excited to announce this week's release, Rivers of Living Water, which also happens to be the newest addition to our Dyed4you Art flag line and as a flag it is called River of God. It was originally created as a Prophetic "Portrait" along with a coordinating Crinkle Silk (which she used as a streamer veil) – and the recipient was blessed by it (as well as the other items she received). This is her 5-star review from Etsy:
Wow, I love my purchase. They are beautiful. The personal prayers accompanying the prophetic portrait and silk streamer speak to and encourage me. It is a pleasure to work with the seller. She is quick in response, detailed in answer and patient when I asked loads of questions. I have already recommended her to my church mates, am sure they will soon place order with her.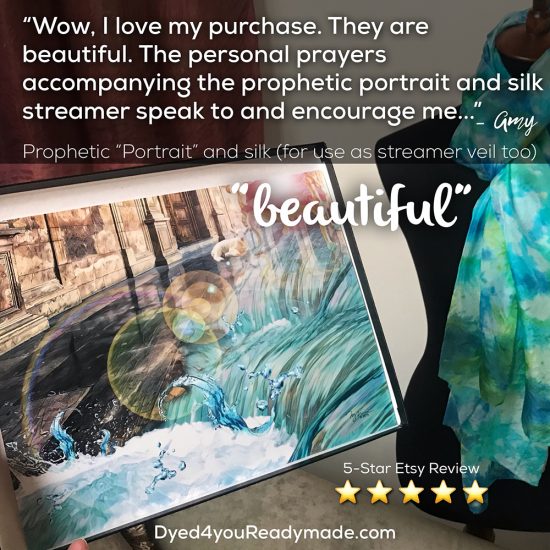 And they did order (as did she again)! And when I shared with a member of the Dyed4you Art community, she felt led to gift the River of God flag to a friend who God had been speaking to about living water. Her friend was immensely blessed and shares her testimony in the video below. One of the things I love about her testimony is how clearly it demonstrates that God is FULLY ABLE to provide when He wants us to have something. He can make a way where there seems to be no way. He is so good!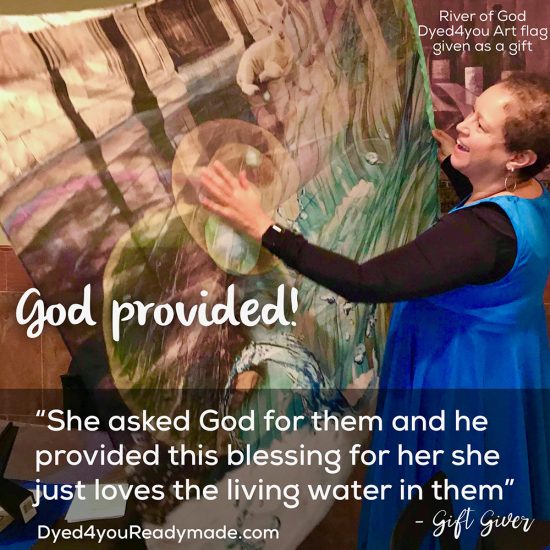 We pray the Rivers of Living Water art and its word bless you (read the full word for Rivers of Living Water)