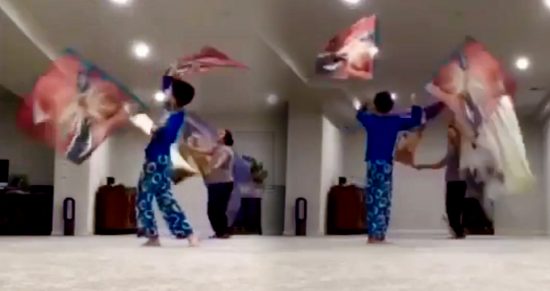 A sweet lady who is part of the Dyed4you Community contacted me about getting a pair of Breakthrough (flag based on Dyed4you Art's Mighty Breaker Anointing) Dyed4you Art kid-sized flags for her grandson. He was so excited just picking them out! And when she saw what he'd picked she thought they were "beautiful!"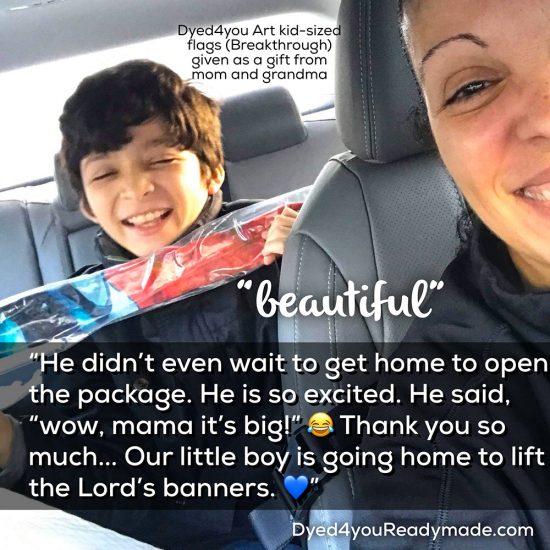 He didn't even wait to get home to open the package. He is so excited. He said, "wow, mama it's big!" 😂 Thank you so much, Meghan. Our little boy is going home to lift the Lord's banners. 💙

God is good. Today we waved the banners together for the first time and the atmosphere was saturated with the Holy Spirit. Our little guy was filled with joy and couldn't stop waving those banners. I told him that every time we waves banners the Lord sees us and He is so happy that we are worshipping Him. Thank you for blessing us. 💙💙💙

I asked the little guy if he wanted to leave his flags downstairs in the basement with mine and he refused. He wants them in his room where he can see them. 😂

He just can't get over how beautiful they are.
Above and below are some sweet videos from their worship at home. Susan joins him with her Lion and the Lamb (mismatched pair based on Dyed4you Art's Promised Kingdom) of Dyed4you Art flags.