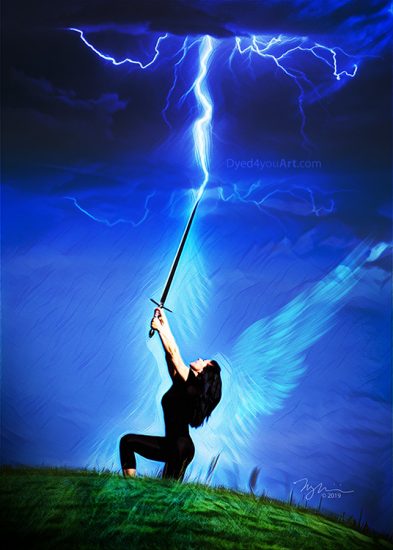 This week's release is the next in our Warrior Bride series. It originally began as a Prophetic "Portrait" and is now being released to the gallery. It's name is Empowered by Love. The recipient (who ordered the Prophetic "Portrait" with a silk and received it at the end of July) shared part of her testimony.
I can't thank you enough! Im still trying to find the right words to say what I'm feeling!

Initial impressions when I saw the picture were : It's like the freedom worship warrior , backed by Heaven and company of angels – holding the sword of the spirit – and I also felt God winking at me because I loved She Ra when I was little. Lol!!! (I just remembered She Ra's Tagline is 'Princess of Power' 'So stand in the light and it'll become even more powerful' is so cool.)
And here's the other thing! A friend shared a word with my husband sometime around 17 July –

'God just said to me whilst I was thinking back to my word 'look for the break in the cloud and only then can the light shine through. You are/hold a double edged sword, so when you see the light shine through hold up your sword and stand in the light because it will become even more powerful' I don't know if that means anything to you right now but it will come to pass.'

It's amazing what she saw was so similar to what you saw!!
Read the full word for Empowered by Love