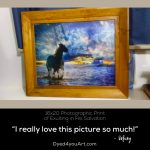 This is a beautiful testimony of encouragement and confirmation connected to our Exulting in His Salvation Dyed4you Art piece and ultimately a silk called Exult in Me Throughout the Nations (and a flute dyed in the same style – pictures and video below).
This testimony began with having to say goodbye to my horse named Torah on April 9th.It was a very sad time for me because she was very emaciated. So seeing her that way, having to say goodbye on a rainy day, to the music of my Native American flute, was a deep pain that I couldn't shake.I asked God to give me a picture of what she is like now, to replace my memory of how she looked when I had to let her go.

God had prompted me to bless my sister Meghan with one of my native flutes named Exult and when she heard the name it reminded her of a pre-existing art piece named "Exulting in His Salvation".She texted me a quick picture of it and I caught my breath, because I realized that the horse in the picture was the essence of my horse Torah.Nobody knew that I had asked God to be able to see her, like she is now in the other realm. I couldn't get over how fast and uniquely God answered my prayer.

Meghan offered to bless me with a copy of this picture.I asked her if there was a silk in the picture and she said there wasn't but that God was giving her a new word to go with her dying the "Exult" flute.So this resulted in a new silk and corresponding word that was called "Exult in Me Throughout the Nations".I asked for a streamer of the new silk and was blessed with that as well.

In the meantime, I was in the process of commissioning a silk to use to make a throw for a dear friends'birthday.Though we had picked one, at the last minute the Holy Spirit changed our choice to this new silk.

What stand out so clearly in all of this is, all the ways God tied together all the pieces for everybody to receive a blessing.And who knows where this blessing will end as we choose to exult in His salvation and exult in Him throughout the nations.Thank you Meghan and the members of Dyed4you for allowing all the Dyed4you community to be blessed through the unique way you have of hearing and displaying the beauty of the Lord for all to see.
Here's some video of me playing my unique Exult flute with Middle Eastern tuning in F# (made from Cedar and dyed in the Dyed4you style Exult in Me Throughout the Nations). I'm new to this type of flute so extend grace 🙂