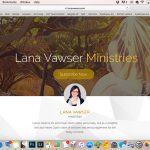 Anyone who follows our Dyed4you Ministries Facebook page knows that I (Meghan) love when God commingles anointings between ministries. Since a couple of the words Lana Vawser has given are quoted in silk letters, it blessed me when we were contacted by her husband wanting to use our Abundant Fruit image for the header on their ministry website. 🙂
They like to feature different prophetic artists, which also helps to let other people know about the various artists – how awesome is that?! That's one of the reasons we are meticulous when we quote in our art or silk letter because we love to spread the word about other ministries who fruit is good!
Anyhow, just had to share because I thought it was neat 🙂 Praying Papa brings increase in favor, anointing, and blessing over their ministry and all the prophetic artists they bless through it. To Him be all the glory!