Tami loved her 16×20 of Lavishing Praise!  She displayed it with an 11×60 of Abiding Worship (the Dyed4you scarf featured in the image) to the right and the word that goes with the image framed to the left.
Also fun to note is her Prayer Blanket (patchwork throw) over the chair 🙂 Here was part of her comments:
I received this print "Lavishing Praise" It is just Beautiful. Thank you my Friend!!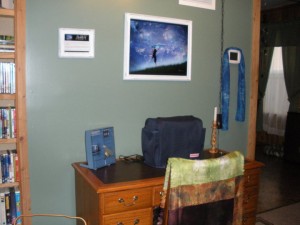 And in July 2012, we were sent an updated photo of how it's displayed 🙂