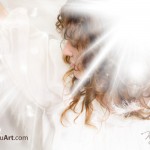 I'm enjoying reading the testimonies that are coming in from the artwork now that people can simply order a blank size and have me send whatever the Lord says.  With this image, I had created it and asked the Lord what I was to do with it… the order came in the next day 🙂
Omgosh… I got the picture yesterday and I was sooo surprised. It was beautiful, beautiful, beautiful.

The funny part is that I have been seeing a lot of angelic happening in the supernatural lately and I was thinking to myself… "Am I really seeing these or is it just me." Confirmation all the way and such a wonderful reminder to hang on my wall. Thank you sooooo much.
The name of the art is Holy Encounter.  It's not one that has been released in the gallery, it's only available as a personal prophetic image.