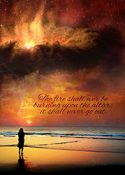 Fire on the Altar represents the quiet moments of releasing our hearts to the Lord in prayer, praise, and simple fellowship.
"The fire shall ever be burning upon the altar; it shall never go out." Leviticus 6:13 (KJV)

"be unceasing and persistent in prayer;" 1 Thessalonians 5:17 (AMP)

"And in the same way—by our faith—the Holy Spirit helps us with our daily problems and in our praying. For we don't even know what we should pray for nor how to pray as we should, but the Holy Spirit prays for us with such feeling that it cannot be expressed in words." Romans 8:26 (TLB)
Prayer is simply talking to God. It is a starting point for building a relationship with Him. By choosing prayer, you can move from just knowing about Him and knowing Him as "God" to knowing Him as Father. Discovering His many names, and what they mean. And you can find out for yourself who He really was, is, and is to come. He is ever ready to listen to you, to hear you, to see you. But remember to make it more than just a one sided conversation. Take the time to let Him speak to you also. Hear what is on His heart. Let Him unfold His plans for you to see.
And remember to talk with not only your Father, but also His Son, and Holy Spirit. They all have something to say to you. You will discover that after awhile of this exchange of prayer, or talking, that you can distinguish their voices and know Who is actually speaking to you. They desire an intimate and personal relationship with you. Amazing God! This daily speaking with Them will keep the fire burning brightly. You will find yourself on an awesome journey of discovery, finding out about your God, the One who loves you relentlessly.
The name of the silk in this image is Fire from the Altar of Heaven. The colors in it are fire red representing Holy Spirit fire, cream representing sweet aroma of praise and worship, burgundy representing belonging to the Lord, red wine representing living sacrifice, harvest orange representing fullness, golden yellow representing glory revealed, electric blue representing intense fire, and gold shimmer representing purification.
Father, no matter how weary we may be, no matter how alone we may feel, our spirits cry out to the living God. Our heart cries of intercession are incense before His throne, fire on the altar. We will seek You. We choose You. We trust You.

May each of us come to know You, Father, and the Son, and Holy Spirit in the intimacy of prayer. May we understand Your perspective and come into a daily, continual relationship with You. May the fire of Your glorious love burn forever brightly on the altar of our hearts. Amen!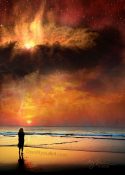 (Available with and without the scripture on the image, but with the text is the default)