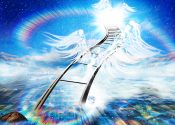 Heavenly Ascent (Bethel) was inspired by Jacob's dream at what became Bethel in Genesis 28, and it embodies those promises for us today.
Genesis 28:11-13, 16-17, 19 (TLB) That night, when he stopped to camp at sundown, he found a rock for a headrest and lay down to sleep, and dreamed that a staircase reached from earth to heaven, and he saw the angels of God going up and down upon it. At the top of the stairs stood the Lord. "I am Jehovah," Then Jacob woke up. "God lives here!" he exclaimed in terror. "I've stumbled into his home! This is the awesome entrance to heaven! He named the place Bethel ("House of God")…
Micah 4:1 (NKJV) Now it shall come to pass in the latter days that the mountain of the LORD'S house shall be established on the top of the mountains, and shall be exalted above the hills; and peoples shall flow to it.