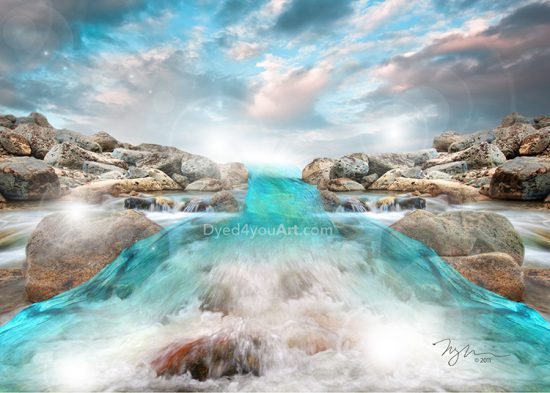 River of Life portrays the flow from the throne of God rushing down on us bringing healing and wholeness.
Revelation 7:17 (NKJV) For the Lamb Who is in the midst of the throne will be their Shepherd, and He will guide them to the springs of the waters of life; and God will wipe away every tear from their eyes.
The river of God washes away all the shame and wounds of the past and brings new life and healing. No stones in its path will hinder its flow and its persistent, endless stream smooths away the rough edges over time just as the Lord's steadfast love works in our hearts and lives.
A Prophetic Nugget from "Daily Downloads from Heaven" by Meghan Williams is connected to this. It's called "Rainbow Waters (Seven Spirits of God)."
Isaiah 44:3 (NKJV) For I will pour water on him who is thirsty, And floods on the dry ground; I will pour My Spirit on your descendants, And My blessing on your offspring;

Beloved, thirst for Me, for I will not leave you parched. I delight to saturate you with My Spirit – to flood you to overflowing that you might bless others in the overflow. Pour out without reserve knowing I AM faithful to pour in. Allow My Holy Spirit to bring forth abundant life, with beauty blooming forth even in the desert and the dry season.

For I give the only water that truly satisfies. Seek Me, beloved. Yield to My Spirit. Allow each facet to manifest in splendor in your life: My Spirit, Wisdom, Understanding, Counsel, Might, Knowledge, and a reverential fear of Me. Flow in each glorious stream, and let the rainbow waters flow in and through you bring glory and honor to Me.

Isaiah 44:3-4 (VOICE) Like a devoted gardener, I will pour sweet water on parched land, streams on hard-packed ground; I will pour My spirit on your children and grandchildren— and let My blessing flow to your descendants. And they will sprout among the grasses, grow vibrant and tall like the willow trees lining a riverbank.
A prophetic download from Christine Pearce is connected to this. It is called "River of Peace."
Continue to pursue me: to pursue my words and pursue my presence. Immerse yourself in me. I am your everything. I am your supply. I will provide you with an abundance of whatever you need. Hold your hands open wide, turn your face to me, lift up your eyes to where your help comes. It is no longer a dry season. No longer will there be drops here and there. No longer will there be just trickles or tiny rivulets. At times you will find yourself in the rapids, but I am steering your raft, so relax, be at peace and enjoy the ride while staying responsive to my directions. Ask of me and I will live really give you the wisdom and knowledge you will need for your course ahead.

Psalm 28:6-7 (NLT) praise the Lord! For he has heard my cry for mercy. The Lord is my strength and shield. I trust him with all my heart. He helps me, and my heart is filled with joy. I burst out in songs of thanksgiving.
Another Prophetic Nugget from "Daily Downloads from Heaven" by Meghan Williams is connected to this. It's called "Carrier of My Living Water."
Revelation 22:1 (VOICE) My heavenly guide brought me to the river of pure living waters, shimmering as brilliantly as crystal. It flowed out from the throne of God and of the Lamb,

Beloved, My living water flows fresh and clear from heaven – raining down on you. Raise your arms and open your heart and receive My flow. Drink deeply, beloved, and allow the refreshing, life-giving flow to saturate every area of your being and your life. You are a beautiful vessel, beloved, let Me fill you to overflowing.

And then, beloved, pour it forth on the dry and cracked people and places and situations around you. You are a conduit – a carrier of Me – to a lost and dying world who desperately need a touch from Me. Be that touch. Minister My love, My healing, My refreshing, My living water and bring forth life and life abundantly all around you.
A Word called "Dive Deep" from Elisa Eaton of Waiting in the Wings is connected to this.
Jeremiah 1:5 (AMPC) Before I formed you in the womb I knew [and] approved of you [as My chosen instrument], and before you were born I separated and set you apart, consecrating you; [and] I appointed you as a prophet to the nations.

Beloved, I have created you that I might know you. I have brought you forth that you might explore all the depths of who I am. I am love and it is My good pleasure that you would live forever immersed in Me. My love is endless and fathomless, far deeper than the oceans. I am worth knowing and take great joy when you pursue Me with all of your being.

In your encounters with Me, you will sense the depths of My nature, a world without end that beckons you to dive deeper and deeper. When you sense these depths, resist the urge to give into the fear of losing yourself in Me. Be a bold explorer of My heart, knowing that as you lose yourself in the waves of My love you will truly find yourself there. You will inevitably soak in more and more of My nature until you resonate with the sound of My voice. Dive deep, beloved, and let yourself be overwhelmed. In your pursuit of Me, allow yourself to be transformed into an instrument of My Love.
Another Prophetic Nugget from "Daily Downloads from Heaven" by Meghan Williams is connected to this. It's called "Receive That You Might Give."
Deuteronomy 32:2 (VOICE) Let my teaching fall on you like raindrops; let what I say collect like the dew, Like rain sprinkling the grass, like showers on the green plants.

Beloved, receive. Receive that you might share liberally. For those who have been watered, can themselves water others. So receive that you might give as it has been given to you. In doing so, you glorify Me.

So be saturated. Take the time to receive that you might truly be soaked. Just as a plant is nourished by sun and rain so that it grows large and healthy, so you are growing as you're saturated in My presence. So receive that you might give, and flourish.
A final Prophetic Nugget from "Daily Downloads from Heaven" by Meghan Williams is connected to this. It's called "Yield to the Life-Changing Flow."
Ephesians 5:26 (VOICE) …He gave Himself up completely to make her His own, washing her clean of all her impurity with water and the powerful presence of His word.

Beloved, allow My Word to wash over you. Take the time to soak in it. Meditate and saturate. Be washed clean, refreshed, and renewed. Allow it to hydrate and soften you, let it remove and restructure areas that are dry and brittle.

And in the same way water refuses to be held back – managing to find cracks and crevices, and then over time changing the shape of even the hardest surfaces, yield to the life-changing flow and be transformed.
The silk encompassing the river is called River of Life. The colors in it are turquoise representing river of God, emerald green representing healing, white representing joy, and silver shimmer representing light of Christ. The verse that goes with it is from Revelation 22:1, "Then He showed me the river whose waters give life, sparkling like crystal, flowing out from the throne of God and of the Lamb…"
I pray that you stand directly in the flow of His river with your arms flung wide receiving all the Lord has for you, and that in that place all that is not of Him might be washed away.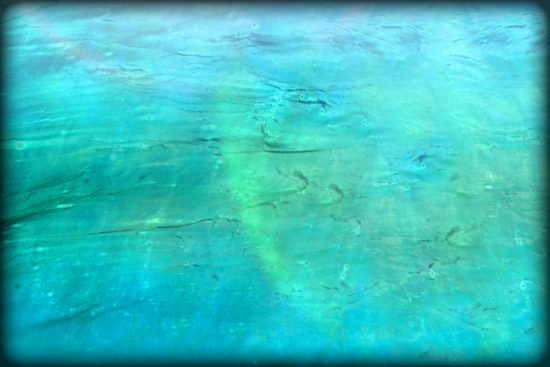 Note: this word was expanded in December 2019