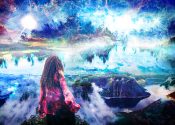 Anointed Dreams reminds us He will stand with us to keep the dreams He's placed in our heart's from being stolen or distorted. He has placed them in our hearts. It also reminds us He meets us in our natural dreams to heal, restore, and encourage us.
Psalm 16:7 (TLB) I will bless the Lord who counsels me; he gives me wisdom in the night. He tells me what to do.

Psalm 3:5 (TLB) Then I lay down and slept in peace and woke up safely, for the Lord was watching over me.

Psalm 16:5 (GW) The Lord is my inheritance and my cup. You are the one who determines my destiny.
An excerpt from Amber Erickson is connected to this.
Sweet tears of a gentle flower, do you see her heart? See she has been rejected by all other flowers, she never felt she ever truly belonged or had any beauty of her own. All closed up inside, there was this song, longing to be heard by her one true love. Day after day as the tears fell, this song would fill her heart and give her strength to carry on. One day in the cool of the day the Master gardener came looking for one special flower, that would come to live in His set-apart garden. He searched over all the beautiful flowers, all of them radiant in the sunlight, anyone of them would have been worthy to be in His garden, but he wasn't looking for the most radiant, beautiful, or even the most colorful. No, his search was for something much deeper. He was looking for the one forgotten, neglected, who's pedals had wilted from the heat, broken and about to die. He saw that in the gentle flower, he passed by everyone and he gently took her from the ground and carried her to new soil and planted her. Everyday he came and watered her, and fed her with life giving food. Pretty soon she began to grow, no longer were her pedals wilted and broken, but they were full of color and she was strong, she was coming into full bloom! The Master gardener would come each morning, bend down and whisper I Love You. This gentle flower had found her true love and she sang her song!
A Prophetic Nugget called "I Will Meet You in Your Dreams" from our Dyed4you Ministries blog is connected to this.
Psalm 3:5 (VOICE) I lie down at night and fall asleep. I awake in the morning—healthy, strong, vibrant—because the Eternal supports me.

Beloved, I AM with you always. Rest in Me. As you yield to Me even in your sleep, I will meet you there for times of refreshing and impartation. Be ready to receive. Come with your heart prepared to meet with Me. Truly you cannot begin to imagine all that I want to share with you there, beloved.

Be ready to be commissioned. Be ready to be mantled. Be ready to be radically and completely healed and transformed. Come ready to lower your guard (you don't need it with Me anyway), and your logic won't help you here – My ways are not your ways. Simply trust and yield. Take Me at My word and receive.
A word from Lana Vawser called "The Enemy Has Brought a Fire Upon Dreams Given to God's People by the Lord… but Upon Them Now Is Greatest Turning That Has Been Seen in God-given Dreams" is connected to this.
The Lord is SETTING YOU FREE IN YOUR GOD-GIVEN DREAM! That lie that's screaming that God is about to pull the rug out from underneath you so you can get your breakthrough or get your dream, is NOT the Lord's heart. The Lord is kind, He is gentle and He is releasing HIS fire, the fire of His love upon the dreams He has given you, the dreams in your heart, that is going to see the chains that have HELD YOUR HEART CAPTIVE IN YOUR DREAMS suddenly FALLING OFF.

The chains that have held you captive IN the dream God has given you are about to SUDDENLY break off…you…will have life-changing encounters with Jesus and His angelic hosts that are going to BREAK this season of ASSAULT against your God-given dreams that have stolen your joy, stolen your passion, stolen your vision, direction, hope, expectation of good and clarity.

I saw INSTANT, OVERNIGHT encounters that will see a complete restoration. You will not only have joy, peace, vision, excitement, hope and SO MUCH EXCITEMENT for your God-given dream and what God is doing and about to do, you will have MORE than you have EVER had before.

God is not tearing away your dream – He is ADDING TO IT! He wants you to LIVE IN YOUR DREAM WITH JOY!…

I saw a SUDDEN, HUGE waterfall of REVELATION from the heart of God pouring out upon the lives of God's people who have been in the middle of this fiery assault. In the huge, gushing, lifegiving waterfall there was CLARITY for the PRESENT, CLARITY for the FUTURE, impartations of JOY contained within the revelation that will see the supernatural refreshment of the Holy Spirit released into the hearts of God's people.
The name of the silk in this image is the Beauty of Your Face. The colors in it are china red representing war and courage, dark red representing power in the Blood, light turquoise representing life-giving flow of the Holy Spirit, and raven representing mysteries revealed.
Father, thank You that You meet us even in our dreams to heal our hearts and restore our wounded spirits. You are ever faithful, Faithful One. Thank You that nothing can steal or derail the God-given and anointed dreams You've placed in our hearts. May they all come to full fruition to Your glory!