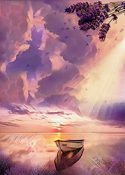 Place of Rest brings us the sense of peace that we find in YHVH Shalom (the LORD our Peace) and that we carry from Him to the world.
"This is My sanctuary, My resting place, forever and ever; I will remain here, for this is what I have desired." Psalm 132:14 (VOICE)

"This is what Yahweh says: Heaven is my throne. The earth is my footstool. Where can you build a house or resting place for me?" Isaiah 66:1 (NOG)
A portion of a word from LetsPrayAmerica is connected to this piece, "I see a wind coming out of the east… It's a gentle breeze called rest. That gentle breeze that is blowing upon the children of God. Bringing them to a place of supernatural rest. I hear the Holy Spirit saying there is a rest for the people of God…For out of that supernatural rest, there will come healing, wellness, wholeness, financial blessing, restoration of marriages, revelation, discernment, new beginnings, peace, tranquility, safety, assurance, joy, contentment, while society lives in fear, the people of God will enter into a supernatural rest. After [all] His house is called a house of prayer, His house will be known as a house of rest. People will come into the sanctuary just to rest. I hear the Holy Spirit saying that He desires for his children to enter into that rest and then declare that their house -their home- will be a house of rest. Nothing will be able to enter that does not use the password-rest. He's looking for those who will enter into His rest. That supernatural rest. Those who need to relax, refrsh, recover, inactivity in order to regain strength, let up, slow down, take a break… rest rest rest-supernatural rest. The word is rest. "
You create an atmosphere of rest. Creating a space for those who need His shalom. As you've downloaded from Him, so you share the peace of the Lord with others. You've sat before the Lord, being a place for Him to dwell – a resting place for His Spirit – and as a carrier of His presence, you bring that peace with you. That peace that wars against chaos, so as you walk into the world, you shift the atmosphere – literally bringing His peace and a sense of His rest. Be generous with what you've been given, and be mindful to guard it and not to allow the enemy to steal it from you. Rest in His peace.
The lyrics from Misty Edwards' "Resting Place" are connected to this piece. "Here Oh Lord, Have I prepared for You a home. Long have I desired for You to dwell, Here Oh Lord, Have I prepared a resting place. Here Oh Lord I wait for You alone."  The name of the silk hidden in this image is Peaceful Beauty. The colors in it are peach representing heart of flesh, cream representing milk and honey, and cranberry representing flawless (Song of Solomon 4:7).
Father, may we be strong in Your peace. May the rest we find in Your presence gird us up with such a strong sense of peace nothing can shake it. May we gift that peace to others by letting it flow through us, being your ambassador of peace in a world that knows much chaos.