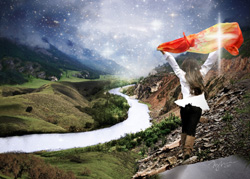 Uncharted depicts stepping off the charted territory into the possibilities of all the Lord has planned.
"For I know the plans I have for you," declares the LORD, "plans to prosper you and not to harm you, plans to give you hope and a future." Jeremiah 29:11
The road ends and a world of possibilities lays ahead rich with life and beauty, drawing you forward, calling you to come and explore and live.  The Lord's presence hovers – guiding, counseling – ever-present. Though you may not know the way, you know that He will direct. "The LORD makes firm the steps of the one who delights in him" (Psalm 37:23). And in the distance, the stars in the heavens remind you of the rich inheritance you are promised in Christ.
The silk in this image is All Consuming Fire. The colors in it are golden yellow representing joyful praise, orange representing fire, and red wine representing passion. This silk speaks to our hearts having a burning passion for the Lord that longs to match His for us. The scripture that goes with it is from Hebrews 12:28-29, "Therefore let us be grateful for receiving a kingdom that cannot be shaken, and thus let us offer to God acceptable worship, with reverence and awe, for our God is a consuming fire."
I pray the Lord's richest blessings upon you as you step into the future He holds for you.  May your life continue to bring Him glory and honor and may you steadily see His hand in all you experience for "the eyes of the LORD are on those who fear Him, on those whose hope is in His unfailing love" (Psalm 33:18).  Bless you as you seek Him!