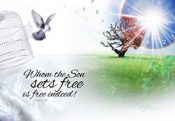 Set Free depicts a captive being released and flying from death into life – and life more abundant.
"Therefore if the Son makes you free, you shall be free indeed." John 8:36

"The thief does not come except to steal, and to kill, and to destroy. I have come that they may have life, and that they may have it more abundantly." John 10:10
We find two silks in this image, the first is on the left and its name is Justice. The colors in it are gray representing humility, white representing triumph, black representing judgment, and silver shimmer representing redemption. This silk comes from Isaiah 61, which reflects God's justice by setting the captives free, giving beauty for ashes, joy for mourning, praise for heaviness.
The second silk is on the right and is called Healing Rain. The colors in it are golden yellow representing joyful praise, chartreuse green representing flourishing, emerald green representing restoration, green representing healing, and gold shimmer representing divine light. The scripture that goes with it is from Malachi 4:2, "But for you who revere my name, the sun of righteousness will rise with healing in its wings. And you will go out and leap like calves released from the stall."
I pray that you would be unwilling to remain caged, that you would receive the freedom offered from the Son and walk in it – live and flourish!



(Available with and without the scripture on the image)