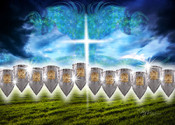 Frontline Warriors depicts a team – united in purpose – taking territory and walking in victory.
"…above all, taking the shield of faith with which you will be able to quench all the fiery darts of the wicked one." Ephesians 6:16
This image is birthed from a vision. The prayer team united – feeling the deep strength, power of unity, grounding. Like a stone frontline – impenetrable strength and power. Fierce, strong like Braveheart. Not a circle, a frontline – like in battle. Fearsome.
The silk in this image is called Ascend.  The colors in it are electric blue representing prophetic revelation, chartreuse representing flourishing, and plum representing intimacy. One of the scriptures that goes with it is from Psalm 24: 3-4
Who may ascend into the hill of the Lord? Or who may stand in His holy place? He who has clean hands and a pure heart…
It is the pursuit of holiness and ardent desire for the Lord coupled with unity among the brethren from which this force gains its strength. Their unity brings the multiplication of their impact ("one have chased a thousand, and two have put ten thousand" Deuteronomy 32:30).
I pray that you would ardently pursue the Lord, walk in holiness, and pursue peace among the brethren. And that as you do, the Lord – who leads you – might increase the impact of your warfare. United we are a force to be reckoned with!