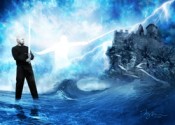 Destroying Strongholds depicts a warrior – unafraid – coming against a stronghold of the enemy.
"For the weapons of our warfare are not of the flesh but have divine power to destroy strongholds." 2 Corinthians 10:4
The silk overlaying the whole image is called Mighty Warrior. The colors in it are turquoise representing warfare, royal blue representing the word of God, and gray representing strengthened faith.
Our warrior knows his true strength comes from the Lord. As Psalm 93:4 says, "Mightier than the thunders of many waters, mightier than the waves of the sea, the Lord on high is mighty!" So he fights donning his full armor (Ephesians 6:10-18) and is victorious!
I pray that you would put on the full armor of God and fearlessly do battle against the enemy's strongholds knowing that in the Lord your victory is assured.