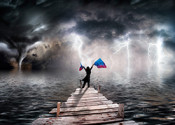 Whom Shall I Fear depicts a worshiper standing fast and refusing to succumb to fear.
"The Lord is my light and my salvation; whom shall I fear? the Lord is the strength of my life; of whom shall I be afraid?" Psalm 27:1 (KJV)
Though the storms of life may rage and torment, we have nothing to fear. The Lord is our strength, salvation, provider, protector, and He is sovereign. He will walk with us through any trial, using it for good. We can trust Him knowing He has plans to prosper us and as we yield to Him nothing can thwart them. He will not give us more than we are able to endure. He has prepared us for each tribulation and as we seek Him on how to walk through them He will be glorified in our lives.
The silk in this image is called Trained Hands. The colors in it are electric blue representing explosion and china red representing war and courage.
Father, may we refuse to surrender to fear of any kind. May we stand fast in the knowledge of who You are and who we are in You. Help us not to question Your ways which are beyond our comprehension, and may we remember to be grateful You prepare us for each hardship that comes. Let us not run from trials You've allowed in our lives. May we submit our lives to You without reserve that we might leave no room for the enemy.