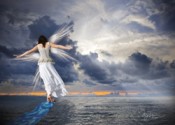 Walk of Faith portrays the trust and risk required in a walk of faith as well as the support we're given there.
"…when your faith is tested, your endurance has a chance to grow." – James 1:3
Our walk of faith often requires us to do things that seem unreasonable and illogical in the natural, yet the Lord gives us the grace needed to walk it out as we rely on Him. And though we often begin to grow weary – His promises encourage us onward. Galatians 5:5 reminds us, "But we who live by the Spirit eagerly wait to receive everything promised to us who are right with God through faith." (NLT 1996)
The silk in this image is called Believe, it is supporting her feet as she walks on water. The colors in it are white representing childlike faith, sky blue representing revelation knowledge, blue representing the word of God, and pearl shimmer representing angelic presence.
The scripture that goes with this scarf is from Hebrews 11:6, "But without faith it is impossible to please Him: for he that cometh to God must believe that He is, and that He is a rewarder of them that diligently seek Him."
I pray that above all you would take up the shield of faith, that your feet would not stumble from the path the Lord sets before you, that through the exercising of your faith your endurance would grow, and that you would receive the rewards given to those who diligently seek Him.