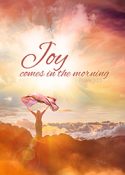 Joy Comes in the Morning is the reminder of the promise of the coming dawn, and it captures the glorious feel that fresh day full of possibilities brings.
"Weeping may endure for a night, But joy comes in the morning." Psalm 30:5b (NKJV)

"The deepest pains may linger through the night, but joy greets the soul with the smile of morning." Psalm 30:5b (VOICE)
The new day can feel like a slate that has been wiped clean, full of hope and endless possibilities. As we wait on that promised daybreak, we are prepared to embrace the dawn (whenever that spiritual dawning may happen) and open ourselves wide to what Father has in store. Knowing He will pour out His glory and shine it on us and through us, we keep our eyes fixed solely on Him, engaged in worship of the One who is holy, thanking Him for all He is, all He does, all He brings forth – for He is worthy and He is good.
"Though the night seems to be long and dark and your vision is impaired and things feel bleak and you cannot see or feel your way through, though you are weeping and feel alone, take heart, says the Lord. The day will break, and you will embrace the light of a new day. Though hope deferred makes your heart sick, know that there is hope. I Am your hope, and I have not left you. I have not brought you into darkness and defeat. I Am giving you marvelous light. Though you are not seeing it, sensing it, embracing it yet, hold onto My unfailing hand, says the Lord. I will break through the darkness and give you light. I will give you the dawning of a new day and clarity of vision. You will embrace what eye hath not seen and ear hath not heard, nor could you even imagine what I have prepared for you. Even as I said, "Let there be light," and there was light at My command, I will give light that I create for you. You will not walk in the dark. You will not stumble and fall. You will embrace the new as I create and do a new thing for you. Hold on, My beloved child. Joy comes in the morning and i will wipe away all the tears from your eyes and you will embrace what you could not see or hear or imagine to the fullness of My promises for you, says the Lord" ("The Day Will Break" by June Reinke of Prophetic Light).
"…You said I belong to Him and He belongs to me….And I saw you denying your flesh When everything inside of you is screaming. You said No. I want to show love. And you fought the fight. Even when you cannot see, still you believe. And I say Angels, Oh Angels, Oh Angels! Look and see! Look and See! In that dark night of faith they're still loving me" (lyrics from Misty Edwards' spontaneous song "Do You Know the Way You Move Me").
The name of the silk in this image is From Mourning to Dancing. The colors in it are golden yellow representing pursuit with intention, fire representing flaming throne of God, red wine representing the fellowship of Christ's sufferings, fuchsia representing deep place of the heart, plum representing richness and abundance of fruit, black representing death to self and the eye of God (the apple of His eye because His gaze is steady upon you), and gold shimmer representing refined in the fire and glory.
Father in the darkness before the dawn, we refuse to give up. We refuse to look away. We refuse to stop worshipping You and waiting on Your move. You've promised joy in the morning and we stand on that promise and watch it break forth!
(Read the full story on this art piece and the silk in it here: Silk: From Mourning to Dancing & Art: Joy Comes in the Morning)



(Available with and without the scripture on the image, but with the text is the default)