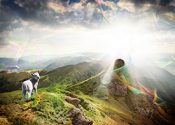 Prodigals Return Home embodies the cry of the hearts of the ones awaiting a prodigal's return. The cries of our intercession filling the air; the promises of God over our loved ones shall not return void!
"Your Father in heaven does not want a single one of the tripped, waylaid, stumbling little ones to be lost." Matthew 18:14 (VOICE)

"So he got up and returned to his father. The father looked off in the distance and saw the young man returning. He felt compassion for his son and ran out to him, enfolded him in an embrace, and kissed him." Luke 15:20 (VOICE)

A word from His Kingdom Prophecy called "The Prodigals are coming home!" by Robin Kirby Gatto is connected to this piece, "The prodigals will come home and you will see victory on every end.  It is a time for great victory for you will see that is not by your hand that it came but only by the hand of the living God, who is for you.  God is a covenant god and remembers those who tremble at His word and meditate on His name, declaring His good works.  His remembrance will be displayed in this hour of His great power. Although there is great darkness, the light will shine all the brighter, and the true saints of God who are wholly given to the Father's will, will see the display of the glory of God beyond anything they have ever imagined. Be confident and in great hope that the Father is on the throne and sees all things in the earth.  Be brave and courageous for we are entering in the season of God's greatness where we will see His Son display the wonder of the cross, opening the doors of captives and releasing the power of God's grace."
The name of the silk hidden in this image is Covenant Light. The colors in it are baby pink representing heart of flesh, pale yellow representing divine light, seafoam green representing flourishing, baby blue representing heavenly, wisteria representing peace, gold shimmer representing blessing, silver shimmer representing word of God, and pearl shimmer representing light of Christ.
Father, we stand in faith believing You will bring the prodigals home. Your love for them exceeds our own, and yet our heart's ache with longing for those You've placed in our heart's – our intercession often more like groaning in the spirit trusting Your promises over them will come to pass. We stand in agreement with Your plans for them. Snatch their feet from the net, Lord. May they know Your saving love.