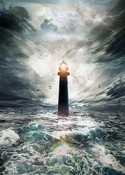 Light in the Storm reminds us that regardless of the winds and waves – the storms of life – we must fix our eyes on Him, the Light in the darkness. We find refuge under His wings.
"[looking away from all that will distract us and] focusing our eyes on Jesus, who is the Author and Perfecter of faith [the first incentive for our belief and the One who brings our faith to maturity], who for the joy [of accomplishing the goal] set before Him endured the cross, disregarding the shame, and sat down at the right hand of the throne of God [revealing His deity, His authority, and the completion of His work]." Hebrews 12:2 (AMP)
He is, has been, and will always be my Light in every storm. What a comfort! What assurance! He covers me with His wings; He lifts me high above the waves. All by the simple act of choosing to trust Him. Even when I breakdown, cry, scream, wail, and moan, He gently woos me back into His trusting embrace. Even when others rage against me, misunderstand me, and are unkind; my Jesus is there with open arms to pull me close. Whispering loving words in my ear, reminding me to forgive, reminding me of all the lessons learned, reminding me of David's words that even if all forsake me, my God has not (nor will He ever) forsake me. My God is for me. He sustains me. He reminds me of the wisdom words: "this too shall pass." Reminds me that the waves can be used to wash away and make clean, instead of for harm. How I love to hear Him whisper, "Trust in Me."
He has, is, and will always be my Light when the storm has subsided. Bringing me healing, love, peace. He covers me with His love like a blanket, easing the pains, so that I can rest and heal. He causes me to focus on Him so that the trauma and shock can be erased by and in His precious blood. He soothes me with love words, speaking to my heart with tenderness. He brings me into the bright and glorious light of His presence, causing the pain of the storm to flee. I give Him thanks, and praise, for He alone can deliver me, and He has done just that.
The name of the silk in this image is By His Breath. The colors in it are storm representing cleansing, light blue representing washing with the water of the Word, dark grey representing fear of the Lord, and golden yellow representing casting out darkness.
Thank You for being faithful. Thank You for being true. Thank You for always being the Light that my eyes and heart and soul can stay focused on. Thank You for being my refuge, a very present help in times of trouble. Thank You for being you.