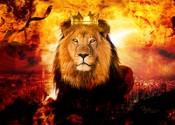 Fire of His Presence depicts the Lion of Judah reigning over all as His holy fire refines and purifies. His roar and His trumpet sound being released to remind His children this is the time for sober watchfulness and not a time for folly.
"Then one of the [twenty-four] elders said to me, "Stop weeping! Look closely, the Lion of the tribe of Judah, the Root of David, has overcome and conquered! He can open the scroll and [break] its seven seals."" Revelation 5:5 AMP
He is releasing a sound. It is time to stay alert beloved. HEAR His sound. Hear His roar!  His Holy sound is splitting the heavens to invade earth with His fire and presence.  The fire that is cleansing, refining; the fire the purifies us, burns away the dross and makes us whole.  He is truly King of kings and Lord of lords.
The name of the silk in this image is Holy Fire.  The colors in it are golden yellow representing praise, red wine representing cleansing justification, and orange representing Holy Spirit fire.
Father, may Your sound stir our hearts, may we be sober and watchful, may we respond in surrender to Your purifying presence, and may we exalt You as King. We choose to submit to Your plans. We desire to be holy vessels for You that our lives and our walks may bring You honor.
 Note: This is an image pair with Listen to the Sound