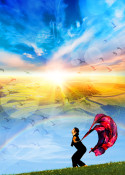 Promised Lines depicts a worshiper unafraid to move into what the Father has promised.
"The Lord is my chosen portion and my cup; You hold my lot. The lines have fallen for me in pleasant places; indeed, I have a beautiful inheritance." Psalm 16:5-6 (ESV)
The silk in this image is Taking the Land of Blessing. The colors in it are emerald representing flourishing, turquoise representing river of God, purple representing abiding in His presence, amber representing glory of God, soft gold representing blessing, and red wine representing covenant of grace.
The Father has a place of blessing prepared for you. He is beckoning you to take it. By putting on the mind of Christ and walking in faith you enter into the Lord's protection and provision. Your act of obedience in taking the land of blessing – your promised lines – will open the way for others to also find their land of blessing!
Father, thank You for a beautiful inheritance. You are my chosen portion, so I fix my eyes on You – the Author and Finisher of my faith, God of my end – and my gaze will not be moved. For You are good, Your promises are good, and You are faithful and true.