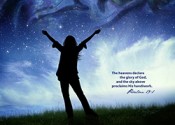 At His Feet depicts a surrendered worshiper – arms raised in praise – as she revels in the glory of His handiwork and He meets her there in manifested power.
The heavens declare the glory of God, and the sky above proclaims his handiwork. Psalm 19:1 ESV
Our worshiper desires to go deeper in warfare and worship.  Lifting her arms, she reaches with her whole being toward the One from whom all blessing flows. In response, He reveals to her spiritual eyes what power one can possess to win and take back territory for the Lord when wielding anointed instruments, being directed by His Spirit, and fighting body, soul and spirit.
Beckoning her deeper, she steps into a deeper spiritual realm in her worship. Suddenly she can feel her weapons of warfare so vividly – the colors, the anointing, and the intensity overwhelming her spiritual senses in this heady encounter with the Living God as He equips her to move to a new level.
The silk in this image is also called At His Feet. The colors in it are turquoise representing warfare, black representing presence of God (Psalm 18:11), chartreuse green representing praise, indigo representing authority in warfare, and gold shimmer representing righteousness.
I pray that You too would surrender yourself to His Spirit, allow yourself to encounter the Creator of Heaven and Earth – lavishing your praise on Him, the Worthy One, and allowing Him to pour back His anointing and power – all to His glory and for His plan.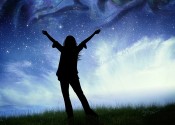 (Available with and without the scripture on the image, but with the text is the default)