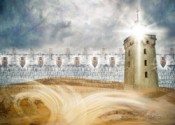 Watchmen depicts each individual in their place on the wall, standing in the gap, and refusing to give up any territory.
"I have set watchmen upon thy walls, O Jerusalem, which shall never hold their peace day nor night: ye that make mention of the LORD, keep not silence" Isaiah 62:6
The silk in the sky is called Wait Upon the Lord. The colors in it are white representing right standing, light blue representing overcomer, soft gold representing mercy, gray representing humility, storm representing removal of hindrances and cleansing, and silver shimmer representing strengthened faith.
As we stand together in intercession, Christ stands with us, and together we stand against the storms the enemy may send – both refusing to give up territory and taking new ground.  In Ezekiel 22:30, it speaks of the Lord seeking "a man among them, that should make up the hedge, and stand in the gap before me for the land" and in that instance, He found none. But not on our watch. The watchmen are awakening and taking their places!
I pray that you would stand firm in your place, waiting upon the Lord and unrelenting in battle. Together we are a mighty force – a force to be reckoned with. Together we are victorious!